LEAHN Director, Nick Crofts, and General Fouad Hamid El Khoury from the Lebanese Internal Security Forces came together for the Second Regional Consultation on Law Enforcement & the HIV Response in Beirut on 21-22 November, 2016. The Consultation was hosted in conjunction with the International Development Law Organisation, UNAIDS, MENAHRA and UNDP.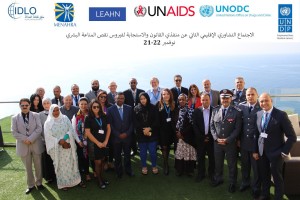 Day 2 of the Second Regional Consultation on #Law Enforcement & the #HIV Response @IDLO @UNAIDS @UNDP @LEAHNetwork pic.twitter.com/OFcLfRhqkS

— MENAHRA (@mena_hra) November 22, 2016
Professor Nick Crofts discussed LEAHN's success in helping build police and law enforcement peer-to-peer networks to support the adoption and implementation of harm reduction approaches in over 20 countries (See the LEAHN Country Focal Points here). Click on the presentation below to find out more about LEAHN.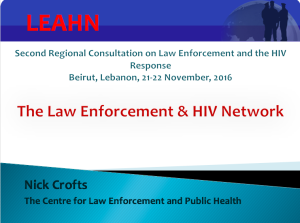 Below is Nick Crofts presentation on Harm Reduction and the Police Role in the HIV Response.
LEAHN: Supporting networking and sharing of experiences between police officers from various countries. pic.twitter.com/WSDH7MkPuB

— Elfatih Abdelraheem (@ElfatihAbdelrah) November 21, 2016
@IDLO co-hosts #police, #civilsociety to review police role & HIV response, Beirut, Lebanon @mena_hra @UNAIDS @UNODC_HIV @UNDP @LEAHNetwork pic.twitter.com/dR9sOMitzh

— David Patterson (@dpattersonroma) November 21, 2016