The following is a report by LEAHN Country Focal Point, Inspector Abdallah Kirungu, Tanzania National Police, regarding recent multi-sector training to address gender-based violence and HIV risk. He calls for more joint training to increase awareness of the impact the criminal justice system and policing has on the health of populations identified at risk in Tanzania.
REPORT ON THE GENDER BASED VIOLENCE TRAINING MWANZA POLICE OFFICERS, SOCIAL WELFARE OFFICERS, JUDICIARY AND HEALTH SERVICE PROVIDERS
By Inspector Kirungu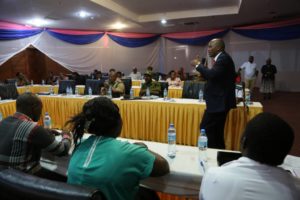 Gender Based Violence (GBV) training in Mwanza region for Police Officers, Social Welfare Officers, and Judiciary from Attorney General Office Mwanza branch, Health Service Providers and religious leaders scheduled from 14th -15th December 2017 at JB Belmonte Hotel in Mwanza.
It was a two days training organised by Emergence Response Plan (ER-Plan) in collaboration with Eastern Africa National Networks for AIDS Service Organizations (EANNASO) and sponsored by the United Nations Agency for AIDS affairs (UNAIDS) Tanzania branch.
The opening remarks made by Mr. Ally Mohamed Mkalipa Seniro Superintendent of Police (SSP) who is also a Staff Officer from the Regional Police Commander (RPC). During his opening remarks SSP Mkalipa declared that Mwanza as the fastest growing city in the country has tremendously experienced on Gender Based Violence reportedly cases, therefore he emphasized that participants should take note and consider the training as an important role to their daily activities and what is going to be taught should be put in  place as a practical for their job attainment.
During the two days training participants came from seven districts including, Mwanza city, Nyamagana, Ukerewe, Ilemela, Magu, Sengerema, Kwimba and Misungwi. Gender Desk Police officers, Social Welfare Officers, Advocates and Health Service Providers were the targeted groups that are directly involved GBV related issues and thus it was very important to have such an opportunity to impart skills and knowledge on how we can reduce harm towards Key Vulnerable Populations (KVP's).
The main objectives of the training  were to create awareness among Police Officers, Social Welfare Officers Health Service Providers and people from the Judiciary to understand the close connection between Gender Based Violence and the highest prevalence for HIV/AIDS, Tuberculosis (TB) and Hepatitis C& D among Key Vulnerable Populations, the health related issues affecting these marginalised groups, and to create close links among various stakeholders to make an enabling environment for the smooth access to  health services.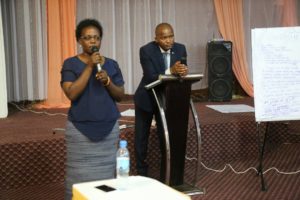 Mrs Rustica Tembele was the main facilitator and I was the co facilitator of the program. Gender based violence definition, characteristics, elements, behaviour and the magnitude of the problems in the countryside was well explained by Mrs Tembele.
These clear explanations created better understanding to participants to the extent she took statistics from the contemporary world report and Africa as a whole, Sub Saharan countries and Tanzania in particular. Furthermore the current report for HIV/AIDS in the country reportedly by Tanzania Commission for AIDS (TACAIDS) revealed that, Mwanza region, HIV/AIDS new infections has grown up and this is an alarming situation whereby stakeholders must take deliberate efforts to curb the problems.
Key Vulnerable Populations were described to better participant understanding and according to Tanzania Commission for AIDS, the following are the relevant populations for consideration:
Adolescent Girls
Adolescent Boys
Orphans and Streets Children
Female Sex Workers (FSW)
Men Who have Sex with other Men (MSM)
People Who Use Drugs particularly those who injects drugs (PWUDs and PWIDs)
Prisoners
Refugees and Migrant Labour
Minerals Extractors
Long Vehicles Driving Drivers
Fishers
Big Plantations Workers
Roads Contractors; and,
People with Disabilities
The categories of KVPs shocked to some of the participants who were learning about these issues for the first time and the connection between gender based violence and HIV, TB and HP C&D to these people.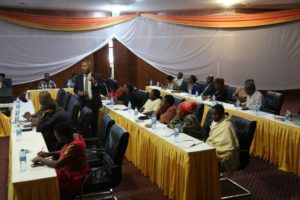 Mrs. Tembele identified three major affected groups amongst the thirteen KVPs: Men who have sex with men (MSM), People who inject Drugs (PWIDs) and Female Sex Workers (FSW) as having high infection rates and that endanger the health of the general population where we belong and emphasizing access to health services among these KVPs.
The session on Harm Reduction (HR) during the training revealed the crucial role of Law Enforcement and Public Health (LEPH) in collaboration with other stake holders like Health Service Providers, Social Welfare Officers, Judiciary, religious leaders' among others have on the wellbeing of KVPs.
I said "Police can be the worst enemy or the best friend to towards harm reduction".
Policing plays a significant role in better health outcomes for many people in the community
The types of policing that contributes to better health outcomes include:

Enforcing road laws – seat belts, helmets, alcohol and driving
Quarantine provisions during epidemics – Ebola, Bird Flu
Enforcing laws regarding family violence
Assisting people with mental health problems
Disseminating information about public health risks (dirty water) cholera
I called upon the collaboration response among stakeholder that Police should not be left behind in how as International Harm Reduction Association (IHRA) says "Minimizing HIV risk necessitates effective partnership between Law Enforcement and program providers".
Police Officers are also a key component of the multi-sectoral response to stopping the spread of HIV
One of the key tasks of police in stopping the spread of HIV is to support HIV prevention strategies e.g. harm reduction
Police support for harm reduction approaches is critical in facilitating 'enabling environments' for harm reduction.
According to Amsterdam Declaration (2015) Police are critical to the success of harm reduction when they allow KVPs to access health services like:
Needle and Syringe Exchange programmes
Opioid substitution therapy (OST) and other drug dependence treatment (e.g. Methadone)
Condom distribution programmes
Free HIV testing and counseling
There are advantages when Police involve in Harm Reduction this evidenced from countries such as Portugal, Netherlands, Germany, particularly in Frankfurt Am Main and then can be seen in the following angles.
Harm reduction services provide a 'bridge to treatment'.
Evidence shows that injecting KVPs will readily seek user-friendly services.
Once engaged they are more likely to request assistance to access drug treatment such as methadone and buprenorphine, Needle and Syringe Exchange program, anti-retroviral  therapies, free counselling and HIV test
Other programs, including employment and housing services, can also reduce drug use problems.
Harm reduction programs have been shown to reduce crime.
Research in China (Zunyou 2005) and other places has demonstrated that by providing treatment such as methadone involvement in crime is reduce significantly.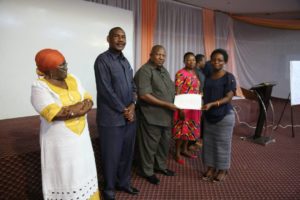 RECOMMENDATIONS FROM THE PARTICIPANTS
They identified stakeholders (KVPs and their families, community members, police, judiciary, health service providers, social welfare officers, prison service, migration services, media and religious leaders) should be coordinated strategically to support to HIV intervention to respond to challenges facing KVP communities.
This program of bringing law enforcers together with other stakeholders to discuss health related issues should be replicated in other regions
This program should have a follow up plan to make sure the participants implement the deliverables deliberated during the training.
Participants raised the importance of holding a dialogue with KVP community in Mwanza with the above identified stakeholders to share their health challenges and include them in the planning of health responses. This will help in creating an enabling and smooth environment for the KVPs to have access to health services.
Thank you.
Please contact me if you have any enquiries.
Abdallah S. Kirungu
Police Inspector
LEAHN-CFP TANZANIA
abdallahkirungu.ask@gmail.com