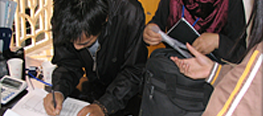 LEAHN is a global network of police and health professionals with a focus on HIV prevention. The Network helps professionals understand the role of law enforcement in public health and the importance of collaborative responses to reducing the incidence of HIV.
Country Focal Points:
LEAHN has established a network of senior police officers in various parts of the world who are key contacts for LEAHN, these police are known as 'Country Focal Points' (CFPs).
To find out more about LEAHN or contact a Country Focal Point see below:
---------------------------------------------------------
ANNOUNCEMENT! LEPH2014
2nd Law Enforcement and Public Health Conference, October 2014 in Amsterdam!
Register your interest by emailing info@cleph.com.au or go to www.leph2014.com for more details!
---------------------------------------------------------